From Seychelles Nation 06.10.2008
In February this year the inner islands of Seychelles experienced strong northwesterly winds with a maximum of 30 knots, according to the National Meteorological Services.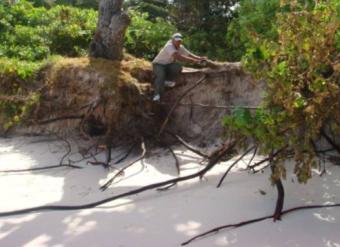 This created strong wave conditions along the coasts of the inner islands, with the beaches and coastlines on Mahe and Praslin being badly affected by extreme erosion. Anse Georgette Praslin was a typical case, and the pictures show how severe the erosion was there.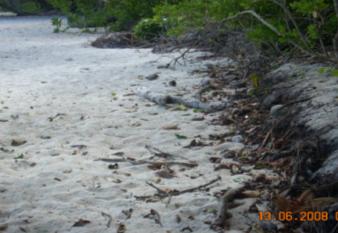 The staff of Lemuria Resort had to virtually "climb down" the beach and there were breaks in the beach profile in many places more than two metres high. The resort had to close off the beach for security reasons to its guests for two-three weeks.
The Department of Environment was in close contact with the management of the hotel and staff of the Marine Conservation Society on the latest beach conditions. Advised by the department, resort managers had to put measures in place quickly and were able to stabilise the beach using gunny sacks of coral fill.
The beach lost three of its mature takamaka trees, and many of the other trees were at risk of collapse.
Now, five months later, nature has done its work and the beach has recovered dramatically. According to Lemuria's general manager, the sand came back very quickly.
The beach is now slowly regaining its previous profile, and the vegetation is also slowly re-establishing itself.
This is a typical example of nature doing its work positively without the interference of man. It will take possibly another four-five months for the beach to have fully recovered in terms of its profile and level of sand.
In most places along the beach, however, the breaks are now less than a metre high.
The resort will now start a replanting programme along the beach to replace the coastal trees and plants that were lost.
Contributed by Alain De Comarmond, Department of Environment